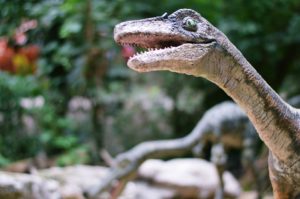 That being (in case you didn't know), the time of the dinosaurs.  In Harrisburg it seems we might be going back in time 65 million years ago as dinosaurs visit the Pennsylvania Farm Show Complex and Expo Center.
The new exhibition – called 'Discover the Dinosaurs' – lets visitors come face to face with T-Rex, the Stegosaurus, the Velociraptor and other dinosaurs from that time.  This is a dream come true for my kids at least and I'm sure a bunch of other children.
It's especially great that the exhibition is in Harrisburg, PA since traditionally Pennsylvania has been a somewhat aggravating state for those who love dinosaurs.  Even though the area has been home to the likes of ceratopsians, raptors and tyrannosaurs' during Mesozoic times, there are minimal footprints that remain and absolutely no fossils.
Perhaps therefore this new exhibition will shed some light on one of my kids' favorite hobbies…second only to Lego!