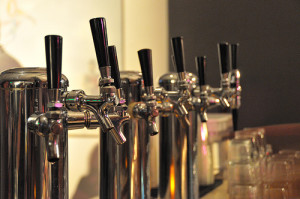 While the Federal Taphouse Harrisburg has been open for a few weeks, it just got more exciting.  It's been a cool bar until now which is great but they've just upped the bar by now adding food!  And great food at that! Located on N. Second Street, the menu looks awesome!
I was there just a week ago, heartily enjoying the beer.  And what is so cool about this place is its name really is its essence.  It has 100 craft beers on tap! That's apparently why the owner Judd Goodman held off on introducing food – he wanted customers to enjoy the beer there first which is certainly what I did when I went with Jake.  We didn't quite get drunk, but we didn't leave all that sober either!  Good job the place is in walking distance from his house where I crashed for the night.
Still, I figure that next time I go I'll be able to choose from a whole fish, roasted half chicken or some yummy snacks.  That way I'll be pairing my drinking with some food and so will probably not get as drunk.  I am quite tempted by the coal fried wings and the Fed fries – French Fries cooked in duck fat with either aioli or cheese curds and gravy and braised short rib.  Sounds delicious to me!  And then I can top that off with the Nutella and banana "pizza"!  I'm so looking forward to going back there soon.