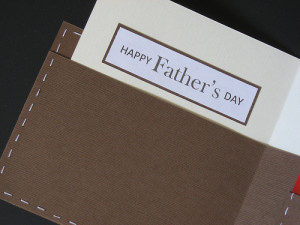 Today is Father's Day.  It's a little tough for me as the ex-wife had asked a while ago if she could have this weekend (which was scheduled as hers anyway) as her boyfriend had planned a family trip for them.  Although I did feel a bit put out and like he's taking away my role as a father – especially on this day – I agreed as I need to keep things as smooth as possible  So I've been spending a lot of the day reading all the papers and I came across this random piece about Abraham Lincoln as a father.  I found it particularly interesting as all I ever heard about his personal life was his reputation as "honest Abe."  I knew nothing about his relationship with his kids though.
Abraham Lincoln was like me in one way at least – he was the father of three boys.  Unfortunately though, tragedy struck, and the middle one passed away at 11-years old.  He was apparently the one who was most like him.  I cannot imagine going through something like that, losing one of my boys.
Anyway, he became very close to his other boy, Tad.  No matter what the boy did – and it sounds like through documentation archived in The Shapell Manuscript Foundation that he was quite the troublemaker – daddy Abraham would come to his defense.  Tad would come and interrupt meetings; go along with him to the White House and even share his bed.  One of the pieces archived at Shapell is a letter Abraham wrote three days after his second Inauguration saying: "Will Gen. Delafield please allow the bearer, my son, to have a map or two for which he will ask? A Lincoln."   This letter was written just five weeks before Lincoln was assassinated.
So really, having read all of this, being on my own for Father's Day didn't seem so bad at all. In fact, after I read Lincoln's tales I realized just how fortunate I am.  I am even more excited to spend next weekend with my kids!