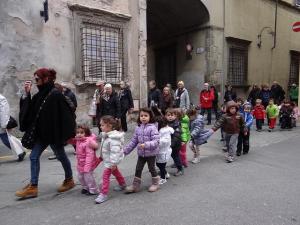 I had the kids this year for Easter for the first time in Harrisburg.  Had no idea what to do with them.  I started looking on line for things to do with kids in Harrisburg, over Easter and found a bunch of things.  But since my kids are quite different ages, I eventually settled on Hersheypark's Springtime in the Park.
Everyone loves Hersheypark.  I know that I've taken the kids there a lot already but I find I never get bored of the place.  I've actually not yet experienced Springtime in the Park so I figured this would be as good a time as any to start, especially now that the weather is really great.
So we went and we really had a blast (I totally overate the Easter Eggs but of course that would happen at the Hersheypark!).  I was delighted to see that there were new rides just in time for the holiday season and my kids enjoyed both the Cocoa Cruiser and Memory Machine.  If you want to go, get your tickets ahead of time.
The best part for me was just before we left, my little one said "daddy, this was the best day ever; let's come again soon."  Success!