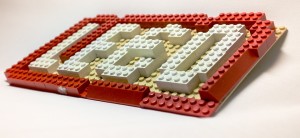 I knew that as soon as my kids would hear about the LEGO KidsFest they'd be more than excited. But I'm not sure they knew how excited I was!  I know that most people assume that Lego is meant to be for kids, but it's actually not entirely true.
Indeed, just earlier this month Jeff Chabot wrote an article in Gadget Review entitled '10 of the Biggest, Most Challenging Awesome Lego Sets You Can Kill a Weekend Building,' detailing some of the top Lego sets for adults! Likewise last year, a video was made depicting the 'Top 10 Legos for Adults.' So Lego for adults is not such an anomaly.
So truthfully, the fact that the traveling LEGO extravaganza is finally coming to Harrisburg is indeed a thrill for the whole family.  I sure won't be missing it!