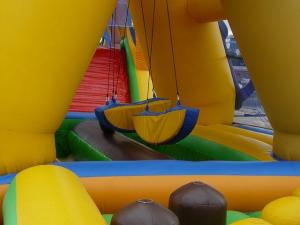 It's not so easy figuring out how to keep one's kids occupied for the whole summer.  That's probably why my ex-wife has sent the three boys to me for a fortnight!  But I'm determined to make the most of it.  So I've been scouring the papers and the web for things to do with kids in Harrisburg in August.  So far I've taken the little one to Preschool story-time at Wildwood Park where he got sticky fingers making a bunch of cute crafts.  Then the other two joined us in the park just hanging out. I was surprised how much they all enjoyed the play time in the park.  I must take them again because it's really beautiful out there.
Today there's also The Wiggles. I'm not sure if my kids are really too old for this but the little one for sure wants to go.  He keeps saying "Wiggles, Wiggles, watch me giggle" and runs around giggling! It's really cute.  His older brothers might enjoy just watching him watch it.  Anyway we don't have tickets yet but we may take a stroll down to the Hershey Theatre later on and see what the situation is as we have nothing else planned for the day.
So it's true.  It's not easy to find things to do with kids in Harrisburg, or indeed anywhere during the summer. Stuff is expensive and crowded.  But with a bit of research and a good attitude, we may just manage to enjoy the last two weeks of the school vacation.