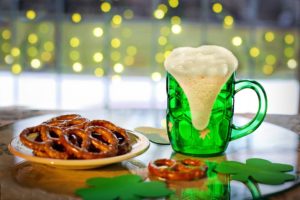 St. Patrick's Day is a lot of fun in Harrisburg.  Probably because it's not just a day, but it seems to go on forever!  While officially it started 3 days ago (March 17th) there are still celebrations and activities going on…at least in the Harrisburg area.
The first thing we did was on the actual day at Flinchy's.  Located at 1833 Hummel Ave., Lower Allen Twp., while this hasn't been my local since moving 2 years ago, it's still holds fantastic memories and never fails to disappoint.  The buffet of green eggs and corned beef hash was quite amazing and you can never drink too much Irish beer…well, at least not on St. Patrick's Day. The doors opened at 7 am (my buddies and I didn't arrive until 10 and that was early for us to start drinking but hey, it's what Patrick would have wanted!)
The next day I took my boys to the parade.  It was all quite regal with a bunch of bands (pipe & drum, marching), dance groups, floats and so much more.
And we ended our celebrations with the King Street Seisun. This block party featured all-things-Irish and we enjoyed listening to Irish music by The Ogham Stones, Hiding Scarlet, Silent Disco and DJ Edge.
I'm already excited for next year's batch!