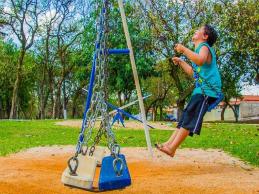 So the search is on again.  I just got dumped.  And I'm tired.  I really want to find my soulmate already.  Enough of just dating, or being married and then divorced.  I want to find THE ONE.
So rather than just go to my local bar, or sign up for a dating website, I thought I'd do some research into what "experts" have to say about how to find one's soulmate.  During my research I found that Rabbi Tully Bryks had something interesting to say.  Now I'm not Jewish or anything but I figure if someone has some sound advice, who cares what religion they are from?
According to him, "one of the many beautiful Jewish concepts is the idea of a soul mate. Forty days before a baby is born, a proclamation in heaven declares the ideal future soul mate for that baby's soul. When G-d created the first person, the verse says, 'G-d created 'Adam' in His image, male and female He created them.' The definition of the Hebrew word "Adam" is person. A careful reading of the text indicates that this 1st person was some sort of hermaphrodite. G-d then took from the rib of this dual-gender being and created two separate genders."
Not wanting to confine myself to Jews' opinion of soulmates, I then moved over to research the Buddhist attitude.  While Buddhism in and of itself does not promote soulmates (being a proponent instead of monasticism), there are still four areas one keen on finding their soulmates, should focus on.  According to an article by Tara Springett, these are: commitment to love and grow in love; law of an even deal(for satisfaction amongst both partners, they need to equally give and take); harmonious energies (romance) the intimate relationship.
Then there is the Christian approach.  Like Judaism, it takes a Biblical approach, quoting Genesis 2: 19: "The Lord God said, 'It is not good for man to be alone. I will make a helper suitable for him.'" From the beginning, God designed the concept of companionship and created a picture of partnership in the first relationship between Adam and Eve, which is further evidenced throughout Scripture in the lives of Abraham and Sarah; and Mary and Joseph; and many others."  True believing Christians also believe that they should trust God to find their soulmate.
I like that idea.  I like the idea of putting trust in a higher being (rather than a website!)  But I do believe I need to do a bit of work too and not just wait for God to rescue me.
So I may take a leaf out of Buddhism, Judaism and Christianity's book – why not use all three – and see if that way, I can somehow find my soulmate quickly and smoothly.  Why not try religion? So far nothing else has worked!